MSNBC Defends 'Morning Joe' Over Trump Hotel Room Story By Touting Show's Ratings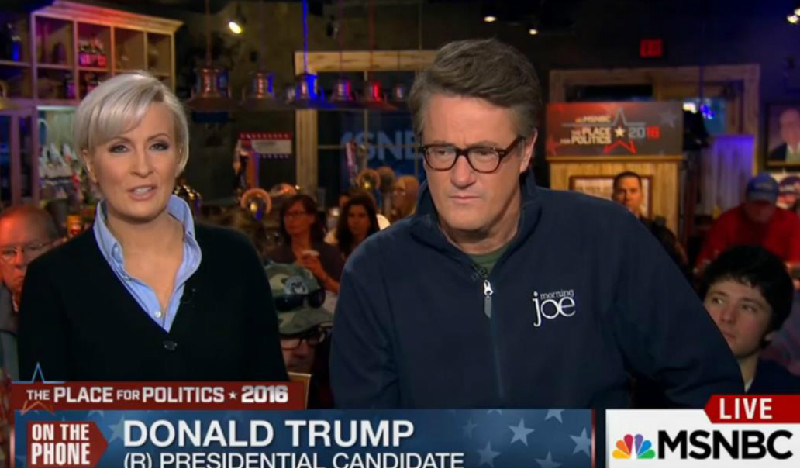 It looks like Joe Scarborough cried and whined loud enough to get the network to come to his defense after it looked like he was getting publicly spanked.
Following a Morning Joe broadcast where Donald Trump thanked Joe and Mika Brzezinski for being "supporters" and said it was great seeing them the night before, CNN's Dylan Byers released a report claiming the two hosts were seen hanging out in Trump's hotel room while the New Hampshire primary results rolled in. Scarborough attacked Byers on Twitter, but when the CNN reporter confronted him to go on the record and deny the story, Joe went silent.
On Wednesday afternoon, the network sent out a statement supposedly refuting Byers' assertion. However, the statement itself actually seems to back the media reporter up, as it says that Joe and Mika did meet with Trump for a few minutes on the night of the primary after first speaking with his campaign staff.
Oddly enough, the last paragraph of the press release is devoted to hyping up the show's superior January and February ratings in comparison to CNN's New Day, which comes across as a very Trumpian thing to do.
CNN's media reporter, Dylan Byers, is implying that Joe Scarborough and Mika Brzezinski watched election returns with Donald Trump last night in New Hampshire. That is not true.
The Morning Joe hosts instead did what anchors are supposed to do — they interviewed the candidate's senior staff to get background information on their strategy in New Hampshire, and on their campaign's plans moving forward in South Carolina. The staff then invited the hosts to get Mr. Trump's reaction to the victory. That discussion lasted less than five minutes. Other networks were allowed interviews as well.
It should be noted that Morning Joe is off to a great start in this election year. In January, the show had 28% more viewers than CNN's morning show last month. And thus far in February, more people are watching Morning Joe than CNN.
The fact is, this doesn't go against anything Byers said in his article. He stated two sources said Joe and Mika were spotted hanging out in Trump's hotel room while the results were coming in. MSNBC's statement does nothing to refute it. They can say they their two hosts were at work doing a story, and that's fine. But nothing Byers said appears to be untrue.
The bigger issue the network has here is the appearance that their three-hour long (sometimes longer) morning show is in the tank for a misogynistic, racist, xenophobic, narcissistic demagogue who has dominated cable news, thanks largely to the efforts of both hosts. They were just thanked for believing in and supporting this candidate by the man himself. (Meanwhile, a Scarborough interview where he brags about helping Trump with his debate prep has popped back up.)
No amount of spin or touting of ratings is going to take away the stench of impropriety that is coming from Morning Joe.