Grumpy Old White Guy Incensed That Black Woman Performed At Super Bowl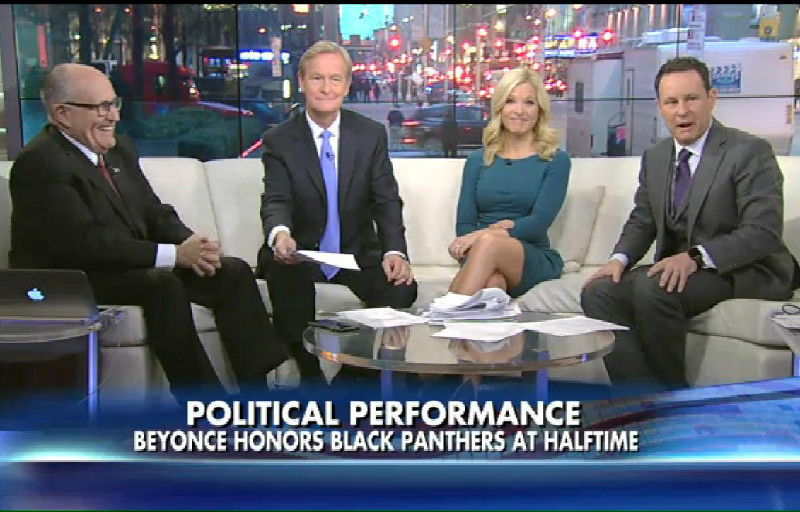 During halftime of Sunday's Super Bowl, Beyonce stole the show from headliners Coldplay. Following up a cameo from Bruno Mars performing his mega-hit 'Uptown Funk,' the singer made an epic entrance. Surrounded by a horde of dancers dressed up as members of the Black Panther Party, Beyonce — clad in an outfit that was an homage to Michael Jackson's 1993 Super Bowl performance — belted out her just-released 'Formation,' which references the Black Lives Matter movement, Hurricane Katrina and Malcolm X.
As one would expect, conservative white America was none too happy with this uppity black lady pushing her anti-white agenda on the TV. On Monday morning, former New York City mayor and Mr. 9/11 Rudy Giuliani showed up on Fox & Friends to express his disgust with the performance and the message behind it.
After the hosts discussed the song and its lyrics for a bit, they turned to Giuliani to get his sizzling hot take. Immediately, he went grumpy old guy by whining about all the weird people with their hippity hop and shit.
"I think it was outrageous," the 71-year-old man opined. "The halftime show I thought was ridiculous anyway. I don't know what the heck it was. A bunch of people bouncing around and all strange things. It was terrible. Actually don't even know why we have this. I mean, this is football."
Silly grin expert Steve Doocy pointed out it was halftime of the game, and they have to do something. But ol' Rudy wasn't having it, saying it fucked up his football-watching experience. He then started with some whitesplaining about what blacks need to do in their community.
"This is football, not Hollywood," Giuliani groused. "And I thought it was really outrageous that she used it as a platform to attack police officers who are the people who protect her and protect us, and keep us alive. And what we should be doing in the African-American community, and all communities, is build up respect for police officers. And focus on the fact that when something does go wrong, okay. We'll work on that. But the vast majority of police officers risk their lives to keep us safe."
Because Fox News, co-host and sanded block of wood Brian Kilmeade jumped in to criticize the NFL for not censoring Beyonce's performance. The Fox personality said that since Janet Jackson' titty popped out more than a decade ago, the league has taken responsibility for reviewing the content of the artists' shows, and they should have stepped in and told Beyonce no.
Giuliani finished by turning up the Puritanical poutrage to 11, whining about the politicization of the halftime while complaining about the lack of "wholesome" entertainment.
"Can't you figure out who you're putting on? I mean this is a political position, she's probably going to take advantage of it. You're talking to middle America when you have the Super Bowl, so you can have entertainment. Let's have, you know, decent wholesome entertainment, and not use it as a platform to attack the people who, you know, put their lives at risk to save us."
Below is video of the segment, courtesy of Media Matters: