Trump Supporters Yell "You Have A Bomb" At Muslim Woman During Campaign Rally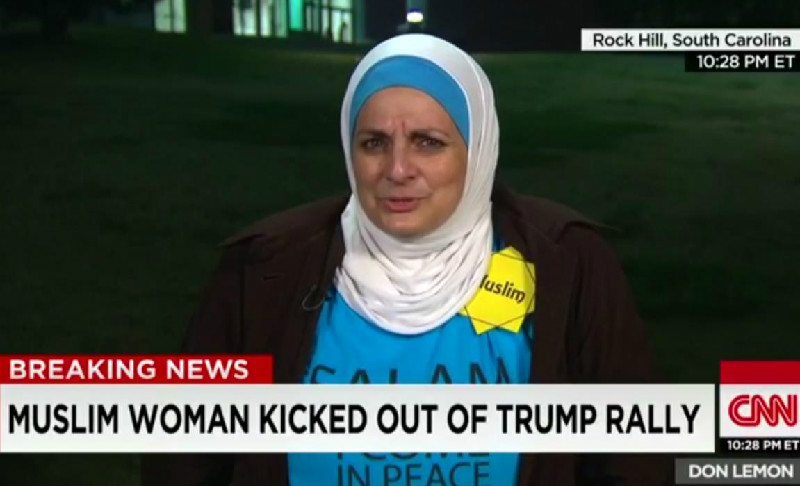 Protests at Donald Trump campaign events have now become commonplace. Considering Trump's hateful rhetoric towards pretty much anyone who isn't a white Christian, that is not only understandable but expected. However, it is the reaction to many of these protesters, by The Donald and his supporters, that has pretty much proven to the nation and world that his White House campaign is built almost solely on white resentment and bigotry.
During a rally in South Carolina Friday night, Rosa Hamid, a 56-year-old Muslim flight attendant, attended the event with the purpose of showing Trump's supporters what a Muslim actually looks like. In her opinion, most of them had probably never seen a Muslim up close. Wearing a hajib with a turquoise t-shirt that read "I Come In Peace," Hamid stood silently when Trump began speaking about Syrian refugees, claiming they were part of ISIS.
After standing for a short time, security came to escort her out. While she was being led out of the arena (for doing nothing), Hamid stated that the crowd started getting extremely hateful towards her. Men started yelling at her to get out, and she heard someone shout "you have a bomb" in an effort to incite others.
Hamid appeared on CNN later Friday night to explain the situation. She did point out that one woman reached out her hand to tell her how sorry she was for Hamid having to experience such ugliness. However, at the same time, Hamid reiterated how the crowd got a mob-like mentality and fed off each other, feeling completely comfortable to lob insults that could have easily switched to physical violence if left unchecked.
This is what Trump is doing in this race. This is his vision for America (if he has a vision). His ticket to victory is whipping half of the country into a racist rage by scapegoating the other half.
Below is video of Hamid being escorted out, courtesy of CNN:
Woman escorted from #Trump rally says she wanted to show his supporters what a Muslim looks like @jeffzeleny reports https://t.co/EFAxp0yMZO

— Anderson Cooper 360° (@AC360) January 9, 2016