Megyn Kelly: Hey Democrats, We Have A 1st Amendment Right To Spew Islamophobic Rhetoric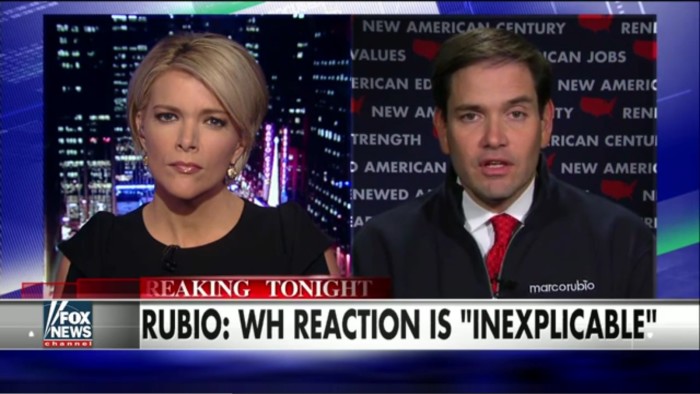 As conservative talking heads and Republican politicians go out of their way to demonize Muslims in this country in the aftermath of the horrific shooting in San Bernardino, others have called them out for being irresponsible with their words in a way that could lead to dangerous backlash against innocent people. Well, you just know the right isn't going to have any of that, and Fox News' Megyn Kelly let Democrats know that she and her fellow colleagues at Fox News are going to keep on spreading the hate because 1st Amendment, baby!
Interviewing Republican Presidential candidate and Tupac/Biggie expert Marco Rubio Friday night, The Kelly File host brought up comments made by Attorney General Loretta Lynch regarding the investigation into Wednesday's shooting that led to 14 deaths. After letting Rubio do his typical Obummer bashing, Kelly added Lynch to the bitchfest, bringing up the fact that the AG specifically addressed the American Muslim community and let them know that she'll look into hateful and violent speech directed at them. In Kelly's mind, that is unheard of because people have the right to free speech (namely Fox News, y'all).
"What do you make of the Attorney General Loretta Lynch who comes out today and doesn't even call it a terrorism investigation," whined the Fox anchor. "It took the FBI director sitting next to her to say that. At the same time, she's sending a message to Muslim groups last night, saying she will make sure that any hateful rhetoric against Muslims is looked into. I was like, um, oh by the way, we do have the First Amendment, but I'm going to look into that."
This was followed by Rubio agreeing with Kelly and saying Democrats, particularly the Obama Administration, doesn't want to acknowledge that we are at war with radical jihadists. And, since we're at war, we need a Commander-In-Chief who shoots off from the mouth and says bigoted shit because that's real leadership, goddamnit. We don't need some namby-pamby politically correct community organizer who is a secret MOOSLEM coddling his fellow terrorists — and all MOOSLEMS are terrorists, by the way — we need someone who will round them up because this is a war between civilizations!
Anyway, it is pretty apparent that Fox New and the right are feeling the heat over their over-the-top xenophobic rhetoric and are lashing out in response. Expect more and more of this childish behavior from supposedly sober and mature broadcasters like Kelly over the coming days.
Below is video of the interview, courtesy of Fox News: