O'Reilly's Response To PP Shooting: "Planned Parenthood Is In The Baby Body Parts Business"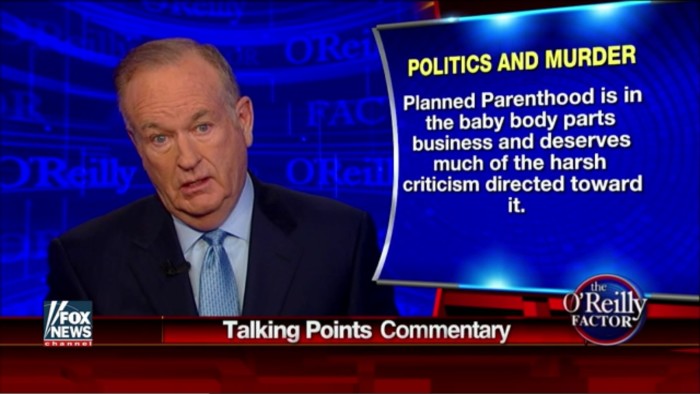 In the wake of a shooting at a Colorado Springs Planned Parenthood clinic that took the lives of three people and led to the criticism of extreme anti-abortion rhetoric from conservative media and politicians, Fox News decided to engage in some immediate damage control. During many of Monday's Fox programs, hosts and commentators pushed back against the notion that demonizing Planned Parenthood and sensationalizing misleading videos about the women's health organization led to Robert Dear's murder spree, even though Dear was quoted as saying "no more baby parts" when questioned by law enforcement.
Of course, the one person who had to give the definitive take on the whole situation was none other than Papa Bear himself, Bill O'Reilly. The O'Reilly Factor host and Falklands war hero devoted the 'Talking Points' segment of his Monday night broadcast to telling off all the far-left wacko zealots who immediately blamed those fighting the good fight against abortion for Dear's crazed actions. Nah, Bill-O ain't having it, you see. Nuh-uh!
The former Inside Edition host made sure to let his viewers know that they don't need to back off spouting hateful things towards those who support a women's right to choose. Instead, they should take a lesson from him, as he advocated for violence against an abortion doctor in the past who was summarily killed in 2009. And did that stop him from telling the truth about baby killers and fetus crushers? No! No it didn't!
"Planned Parenthood is in the baby body parts business, and deserves much of the harsh criticism directed toward it," screeched O'Reilly. "The situation is reminiscent of the assassination in 2009 of Dr. George Tiller, a late-term abortionist in Kansas."
"For $5,000, Tiller would terminate any pregnancy for any reason," continued your humble correspondent. "He was nicknamed 'Tiller the Baby Killer' by organizations who objected to his grizzly practice. I reported extensively on Tiller, and after he was assassinated by a named Scott Roeder, some far-left loons blamed me. The truth is, I reported accurately on Tiller, whose assistant was stripped of her medical license after the assassination. By the way, Roeder was given life in prison, a well-deserved sentence."
And there it is. Bill not only made sure to repeat the wildly false and inflammatory claim that PP is selling "baby body parts," but he is also saying that his culpability in Dr. Tiller's death — and he is VERY culpable — isn't going to stop him from spewing hateful words about Planned Parenthood and other abortion providers. In fact, he essentially thumbed his nose at pro-choice supporters over the fact that he was able to inspire someone to kill Tiller.
Hell, if I didn't know any better, I'd say that O'Reilly is taking extra pride in his hand in this most recent violent outburst. That's if I didn't know any better.
Below is video of the segment, courtesy of Fox News: