After Ripping Hillary For Not Denouncing Islam, Jeb Is Reminded His Brother Said "Islam Is Peace"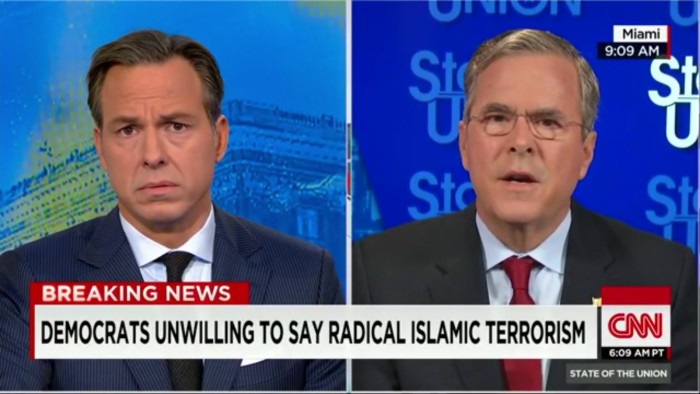 In his attempt to reboot his struggling campaign, Jeb! appeared on both CNN's State of the Union and NBC's Meet the Press Sunday morning to discuss Saturday night's Democratic debate and the recent terror attack in Paris. As one would expect, the faltering Republican Presidential candidate took shots at President Obama and Democrats for the current administration's strategy with ISIS. He also wanted to point out that Dems have been unwilling to say the words "radical Islam" when discussing ISIS or other extremists in the Middle East.
However, in a delicious bit of irony, Bush was confronted with the words of his own brother during his appearance on State of the Union. Host Jake Tapper brought up Jeb's Saturday night tweet during the debate when he assailed Clinton for not embracing the term.
Yes, we are at war with radical Islamic terrorism. #DemDebate

— Jeb Bush (@JebBush) November 15, 2015
Tapper then informed Jeb with exclamation point that his brother, former President George W. Bush, said in a speech just days after the 9/11 attacks that "Islam is peace" and made a concerted effort during his presidency not to blame the Islamic religion for terrorist acts. It was also noted that Hillary invoked Dubya's own words in her response at the debate. Beyond that, Jake also let Bush know that if Hillary Clinton ever tried to utter the words "Islam is peace" that he and every other Republican in Washington would just tear her apart.
Of course, in awkward Jeb fashion, he made sure to stand up for his brother while continuing to say that Democrats need to realize we are at war with Islam. He said that Islamists have used their own political ideology to co-opt the religion. At the same time, he did say that he agreed with his brother that Islam is a peaceful faith.
And this is the issue with Jeb and why he won't ever see the White House. His brother's terrible presidency is like an albatross around his neck. Democrats and independents won't ever vote for his due to him being another Bush while Republicans are reminded of the failures of the Bush Administration and how it lead to two landslide victories for Obama.
But, he's going to keep on keeping on. And during his interview with Tapper, he kept trying to show how tough he'll be on those goddamned radical Islamists as he kept saying those words. He also said that Muslim refugees need to go back to Syria. However, if there are Christians in the bunch, they need to be rescued before they're slaughtered.
Keep on pandering to the far-right, Jeb. Keep on pandering.