Fox News' Eric Bolling Says #BlackLivesMatter Has "Blue Blood On Their Hands"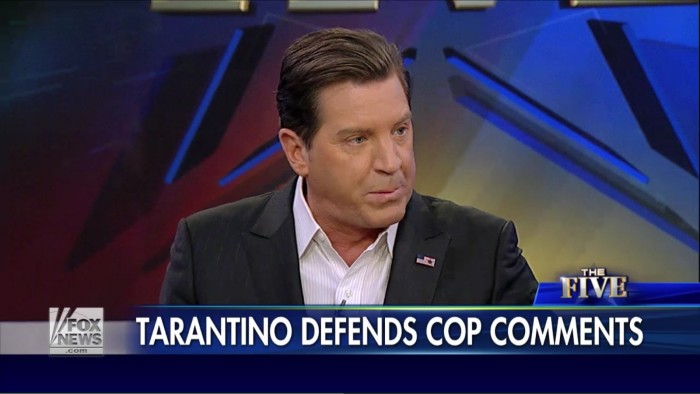 You would think that in the aftermath of Fox Lake police lieutenant Joe Gliniewicz's supposed murder at the hands of ruthless thugs being exposed as a staged suicide and the revelation that the 'hero' cop was actually a corrupt cokehead, that perhaps Fox News would take a break over their continued vilification of the Black Lives Matter movement. However, even after taking heat from all over for using Gliniewicz's supposed murder as further proof that BLM's rhetoric is placing cops in harm's way and that violence against police is on the rise — all total bullshit —The Five's Eric Bolling couldn't help himself and continued to just make shit up in order continue to push that particular narrative.
In the last few days, Fox has decided their newest whipping boy when it comes to the anti-police brutality protest movement is film director Quentin Tarantino. See, ol' Quentin made the huge mistake of attending a #BlackLivesMatter rally in New York and made a statement where he called cops who kill innocent and unarmed people "murderers". While it should seem uncontroversial to call someone who commits murder a murderer, police unions and conservative pundits immediately took aim at Tarantino and decided to make him Public Enemy #1.
Throughout this week, the Pulp Fiction auteur has tried to clarify his remarks, first through an op-ed, and later during an appearance on MSNBC's All In. At the same time, Fox's Sean Hannity went the ultra-scummy route of bringing on Tarantino's estranged dad to refute his son's comments and bash him on the air. Meanwhile, as all of this is going on, the news of Gliniewicz, one of the supposed prime examples of the toll the movement is having on cops, came out and took much of the air out of the argument.
Hell, prior to The Five hitting the air Thursday, Fox News anchor Shep Smith criticized those who rushed to judgment over the Fox Lake cop's death and used it to push their anti-BLM narrative. Of course, that wasn't going to stop Bolling and his crusade to smear the racial justice organization. Nuh-uh. During yet another segment concentrating on Tarantino, Bolling went off on a rant where he wrongfully claimed that violence against police this year is on the rise and murders are up, specifically blaming it all on Black Lives Matter.
"The downside of Quentin Tarantino making a comment like that, that cops are murderers, he walks it back. In the meantime, it feeds into the narrative. 'What do we want, we want them dead, cops, dead cops,' walking through the corridors here of Manhattan. Calling for dead cops and violence against cops rise. Remember the two guys who were executed over here in Brooklyn? In days after that, that protest. People, as Dana [Perino] points out, people look up to Quentin Tarantino. They look up to Hollywood actors and directors, and it feeds into that narrative. Cop violence is going up. Your point, Juan [Williams], violence at the end of a police officer is going up. Violence to police officers is going up as well based on this. Black Lives Matter has blood on their hands, they have blue blood on their hands."
Au contraire, Monsieur Bolling. As it turns out, 2015 will in all likelihood be the second-safest year for police on record, after 2013. In fact, the number of murders of police officers has steadily been trending downwards since the early 1980s. The same goes for the number of violent assaults on cops. This whole notion of a War on Cops, created by the so-called Ferguson Effect, is all a bunch of fabricated horseshit, hyped up by the conservative media in an effort to discredit those seeking necessary changes in community policing.
Does Bolling know he's making false and misleading statements? I'm sure he does, and I'm also sure he doesn't care one bit. This is what he's charged to do. It is who he is.
Below is video of the segment, courtesy of Fox News: