Ann Coulter: I'm A Native American Because My Ancestors Were Settlers, Not Immigrants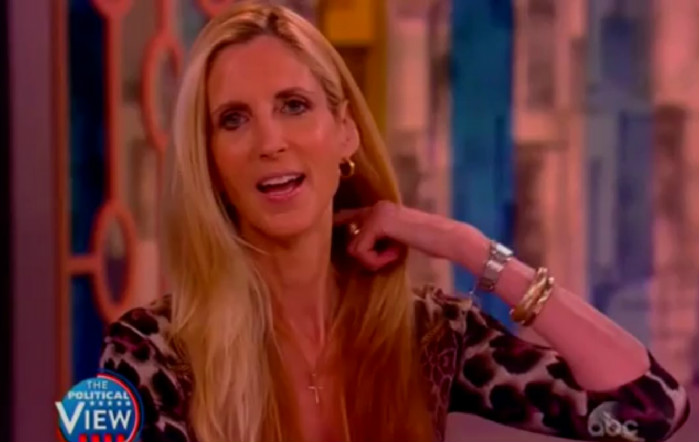 Well, that was predictably a massive shitshow. For some reason (ratings), The View decided to have conservative author and Skeletor impersonator Ann Coulter on the show to discuss her latest racist tome, Adios America. While the book has been out for some time now, Coulter is still going around the talk show circuit pimping it, mainly because it has essentially become the playbook for Donald Trump's xenophobic campaign. As anyone who has had the misfortune to sit through an episode of The View knows by now, Coulter's appearance was going to be all but unwatchable. They did not disappoint.
Immediately, the whole thing became a shouting match as guest panelist and CNN contributor Ana Navarro asked Coulter to explain her book and why she has said she is now a single-issue voter who wants to stop pretty much all immigration. Coulter, in her very smugly Anglo way, explained to Navarro, an immigrant for Nicaragua, the proper way to say the word 'adios'. Yes, that shit actually happened. But wait, it got even worse.
Navarro then asked Coulter if she considered herself a Native American. (Navarro, a Republican strategist, obviously knew that Coulter had made that claim before.) Ann stated that she was indeed a Native American because she's "a settler, and she's descended from settlers, not immigrants." First off, the way she pronounced settler was just fucking weird, as if she was trying to use some WASP-ish affectation specifically for that word. Also, she is pointing out that the only 'real' Americans are those who are descended from those who sailed to Plymouth or Jamestown. You know, English folk.
After that, Coulter dragged Raven-Symone over The View host's recent dumbass comments on "ghetto names," telling the former Cosby Show star that at least she is talking about policy instead of just whining about names. Seriously, Raven, if Coulter is able to make a legit point and get black people to cheer her on Twitter for making you look like a fool, you may have to reassess some things. Seriously.
The rest of the segment consisted of people talking over each other, Coulter insisting that everyone needs to assimilate to American culture (i.e. Anglo-white culture) if they insist on living here, and Raven-Symone trying to save face for being made to look a foll by the second greatest troll in the world. (The first being Trump, of course.) We also got to hear Ann bitch about the changing demographics of this country leading to a "hundred years of Obamas," as if that would freak out the crowd of The View.
Below is video of the interview segment, courtesy of YouTube user Big Mama: