Donald Trump Thinks His Daughter Should Be The Next Speaker Of The House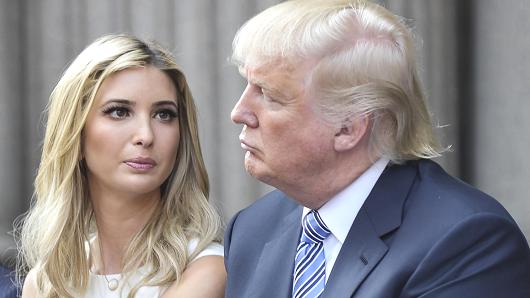 During a closed door meeting where House Republicans were supposed to vote for their nominee for Speaker of the House on Thursday, House Majority Leader Kevin McCarthy (R-CA) surprised the entire caucus by announcing that he was dropping out of the race. The unexpected announcement led to outgoing Speaker John Boehner to state that the vote would be postponed. McCarthy was expected to easily gain a majority but fall short of the 218 he needed to gain the Speaker's gavel due to Tea Party members withdrawing their support. This all derives from his comments confirming the Benghazi Committee is a tool to politically damage Hillary Clinton.
Of course, you knew one person had to weigh in on the shocking news and give his completely nuanced take — Donald J. Trump, the leading Republican candidate for President of the United States. In the mature and stately manner we've all come to expect from the real estate mogul, Trump danced on McCarthy's grave.
Great, Kevin McCarthy drops out of SPEAKER race. We need a really smart and really tough person to take over this very important job!

— Donald J. Trump (@realDonaldTrump) October 8, 2015
Making sure to keep it very classy and very great, The Donald also retweeted a supporter who said that Trump's daughter, who Trump would very much like to bang, should be nominated for the position. The reality TV star pointed out that it was "a great idea."  
"@Moonwkr: @realDonaldTrump I would like to nominate @IvankaTrump for Speaker of the House" What a great idea, she is a total winner! (Nice) — Donald J. Trump (@realDonaldTrump) October 8, 2015
OK, then.
McCarthy was scheduled to go up against House Oversight Committee Chairman and Cecile Richards' bitch Jason Chaffetz (R-UT) and Rep. Daniel Webster (R-WV) when voting was to take place Thursday. Webster was the favorite of the Freedom Caucus while Chaffetz wasn't really going to go anywhere, at least not with McCarthy in the mix. Now, who the fuck knows? Former Vice-Presidential nominee Paul Ryan (R-WI) has already said no to running. Meanwhile, Boehner is scheduled to leave his post at the end of October and it doesn't appear like anyone is willing or able to take his spot.
The raging shitstorm that is the Republican Party continues to blow at full force and there is no end in sight.