"Good Day, I'm Brian Williams": Disgraced Former NBC Anchor Returns To The Air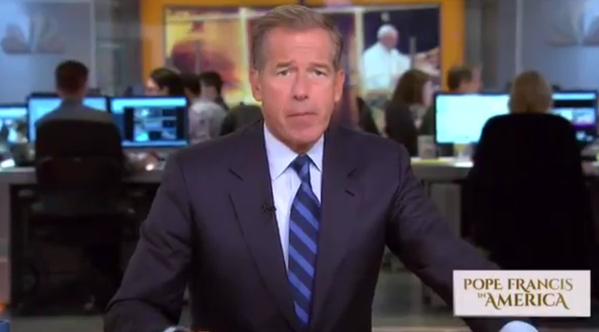 Former highest-rated broadcast news anchor Brian Williams returned to the air after a seven-month absence when he hosted the 3 PM ET block for MSNBC Tuesday afternoon. The ex-NBC Nightly News anchor is fresh off a lengthy suspension for exaggerating and lying about news stories he was involved in over the years and has accepted a rather sizable demotion to the cable news network, where he will serve as a breaking news studio host. Essentially, that means he'll wait around all day until a major story has broken, when he'll take over for a short while.
Much has already been written and said about Williams' fall from grace for embellishing his experiences as a reporter and news anchor. However, rather than straight-up firing the man, NBC decided to utilize him in their revamp of their cable sister. And why not? Williams is familiar with MSNBC, having spent a number of years at the network before jumping to broadcast TV. Also, he is a known name, regardless of the baggage attached at this moment.
On the air, both Williams and the cable news channel made no mention of his absence and did not treat his return as anything special. The previous host merely stated that Williams would pick up MSNBC's coverage of Pope Francis prior to Williams hitting the air. In beginning his block, Williams gave a standard greeting: "Good day, I'm Brian Williams at MSNBC headquarters in New York. In a short time, Pope Francis will arrive in this country for the first time."
And just like that, Williams was back on the air. The next few minutes were treated just like normal coverage of a major news event, with cuts to the field and discussion.
Of course, there was some Twitter conversation regarding Williams appearing on TV once again, mostly from other reporters and journalists.
"Brian Williams picks up our special coverage next" — the most BW's soft-touch return has been promoted by MSNBC…

— David Folkenflik (@davidfolkenflik) September 22, 2015
Man, it's been a while… and a lot has happened. But, Brian Williams is back. #comeback #MSNBC — T.J. Holmes (@tjholmes) September 22, 2015
No personal stories from Brian Williams yet!

— ErikWemple (@ErikWemple) September 22, 2015
Brian Williams has aged. Seriously. — John Podhoretz (@jpodhoretz) September 22, 2015
The pope's first miracle is the reappearance of Brian Williams on my TV.

— Jim Antle (@jimantle) September 22, 2015
Brian Williams is back, anchoring on MSNBC… no mention of why he's been away… he's not the "news," the Pope is http://t.co/wCqorwsXMI — Brian Stelter (@brianstelter) September 22, 2015
Below is video of his first few seconds on the air:
Video: First seconds of Brian Williams back on TV, on @MSNBC at 2:59:30 EDT. pic.twitter.com/1y0OdoSYuk

— Brent Baker (@BrentHBaker) September 22, 2015