Did Sarah Palin Just Call #BlackLivesMatter Protesters "Dogs" At Tea Party Rally? You Betcha!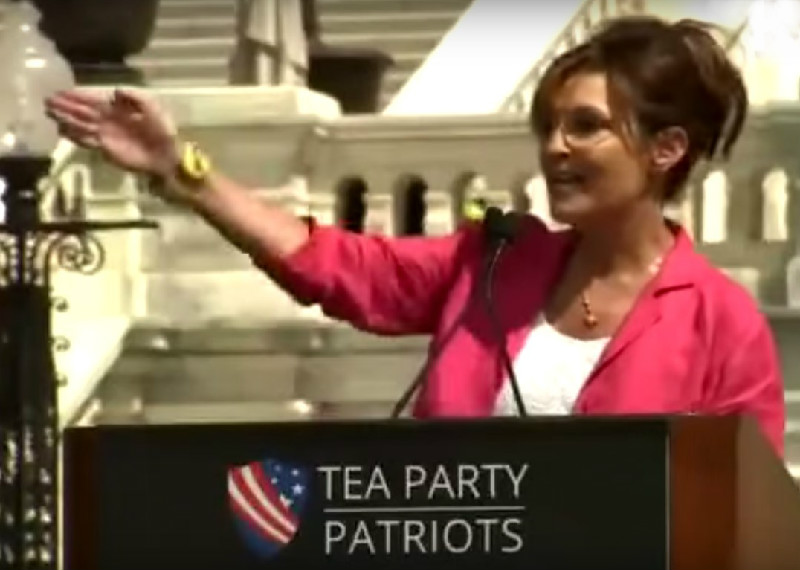 On Wednesday afternoon in our nation's capital, a collection of conservative pundits, far-right politicians and attention-starved reality TV stars gathered for a rally to speak out and attempt to stop the Iran nuclear deal. Of course, the rally comes days too late as it has already been revealed that President Obama has the support of 41 Senators, meaning that not only does he have a veto-proof number of yes votes, but also enough to stop a disapproval resolution from even reaching his desk if the Democrats decide to go that route. But, in all honesty, this wasn't what the rally was really about, anyway.
Instead, it was just a way for some big-name conservatives to build up their cred with the Tea Party and keep their names in the media, all in the guise of attempting to stop a deal that they absolutely know will pass. While the keynote speaker was Sen. Ted Cruz (R-TX), who used his time to call President Obama the biggest sponsor of radical terrorism in the world and claim the multi-lateral nuclear deal will absolutely lead to widespread death and destruction, other notable figures made waves on their own.
One of those making sure to utilize her podium time to do some good ol' Obummer bashin' was Wasilla's own Sarah Palin. The former half-term Governor of Alaska and proponent of "speaking American" took to the stage to not only decry the agreement with Iran and other world powers but to also to some not-too-subtle race-baiting. Speaking in front an almost exclusively white Tea Party crowd, and after she said she was going to bring "some sanity to the discussion,"  Palin condemned the President for not supporting law enforcement while also not calling "off the dogs" of the Black Lives Matter movement.
"Oh, and you know, since our president won't say it, since he still hasn't called off the dogs, we'll say, 'Police officers and first responders all across this great land, we've got your back, we salute you!' Thank you, police officers!"
While I emphasized the part about the dogs, watching the video, you'll see that Palin raised the pitch of her voice and shouted out those words in an obvious attempt to get a reaction from those gathered. Just like Donald Trump, who used his five-minute speech to mostly talk about himself and his campaign rather than the Iran deal, Palin utilized her time mostly to get the Sarah Palin brand over. What better way than to do a little dog-whistling, literally.
Below is video of that moment in her speech, courtesy of Raw Story: