Sarah Palin To Latino Americans: "When You're Here, Let's Speak American"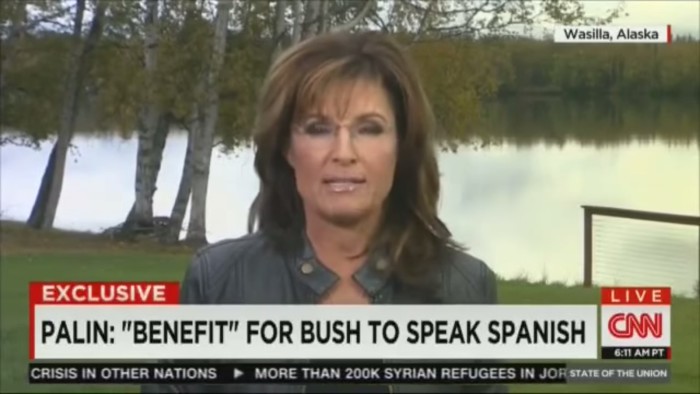 One of current GOP Presidential frontrunner Donald Trump's biggest fans right now is ex-Republican Vice Presidential nominee and former half-term Governor of Alaska Sarah Palin. The word salad connoisseur appeared on CNN's State of the Union Sunday morning to talk about the current Republican primary and Trump's latest claims that everyone in the United States needs to speak English. The Donald has taken particular aim at GOP rival Jeb Bush for Bush's recent use of Spanish — the former Florida Governor is fluent in the language — during press conferences.
State of the Union host Jake Tapper asked Palin her thoughts on Bush's use of Spanish on the campaign trail and if she had a problem with it. In typical Palin style, she sorta praised Bush for being so fluent in the language as it shows that Bush has a great relationship "with them through his wife and through his family connections." The way the Tea Party darling referred to Hispanics definitely came across as if she was talking about 'the others'.
However, after giving Bush props for being able to speak another language, Palin made a statement that seemed like it came right from The Onion.  She wanted all immigrants to know that they not only needed to come into this country legally or they'd be "out of here," she also let them know that they needed to "speak American" if they wanted to live in the United States.
"You know, I think we can send a message and say, you want to be in America, A, you better be here legally or you're out of here. B, when you're here, let's speak American.  mean, that's just — let's speak English and that's kind of a unifying aspect of a nation. [Something about Jeb Bush and other unintelligible shit] That's one of those issues too where, whoop, it goes right over the public's head, legitimately so, they're on to the next issues that are very important for the candidates to be debating."
Look, I tried to transcribe this the best I could. Seriously, this is some crazy fucking shit from someone who at one point was very close to being the second most powerful person in this nation and merely a heartbeat away from the leader of the free world. With the Summer of Trump, we've now allowed this dingbat to get right back into the middle of the political discourse. Why? Because sentient Frito and supposedly super-rich dude Donald Trump has embraced Wasilla's favorite drunk party brawler and put her back into the limelight.
If we are still dealing with this bullshit six months from now, we are completely fucked as a country.
Below is video of Bible Spice yammering on, courtesy of Raw Story: