Fox News Claims That False Rape Allegations Are An Epidemic After Owen Labrie Verdict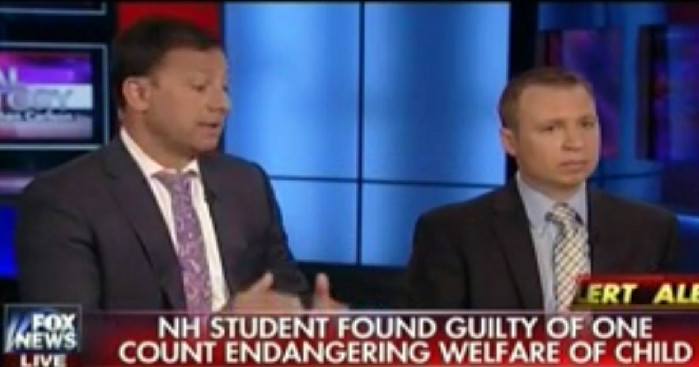 Shortly after a verdict was reached in the New Hampshire prep school rape case that has gripped the nation, Fox News host Gretchen Carlson and a couple of her guests were apoplectic that a "good kid" like Owen Labrie would be facing prison time even though the jury acquitted him of felony rape. While the jury found Labrie innocent of raping a 15-year-old classmate, they did find him guilty on five other charges, one of which is a felony. Labrie, who was 18 at the time of the encounter, was convicted of soliciting sex from a minor in order to commit a sexual assault and four misdemeanor counts of sexual assault.
On The Real Story with Gretchen Carlson, the former beauty pageant winner railed about how unfair the whole thing was to Labrie. Essentially, her main issue is that Labrie had already been accepted to Harvard — because he's a rich white preppie, natch — and now he'll have to serve time in jail and register as a sex offender even though he wasn't convicted of rape. Apparently, being convicted of sexual assault and statutory rape is A-OK in Gretchen's book. That is as long as your from the right (white) kind of family and background.
Guest Tom Kenniff took the outrage over this so-called miscarriage of justice a step further. The defense attorney made the claim that not only is Labrie's life ruined for having consensual sex — it appears Carlson and Kenniff agreed that the verdict said the sex was consensual despite the sexual assault convictions — but that this country has a problem with young girls falsely accusing men of rape. Per Kenniff, America has an epidemic of women crying rape falsely but there really isn't an actual epidemic of real rape. Just a bunch of harlots having 'regret sex' and making shit up later on.
The segment also included Carlson hand wringing about good upstanding young men dating 15-year-olds and then getting accused of rape when things go sour. Good stuff all around.
Below is video of the segment, courtesy of Media Matters: