Fox News' Bill O'Reilly: Voting For Liberals Will Be The Death Of Us All!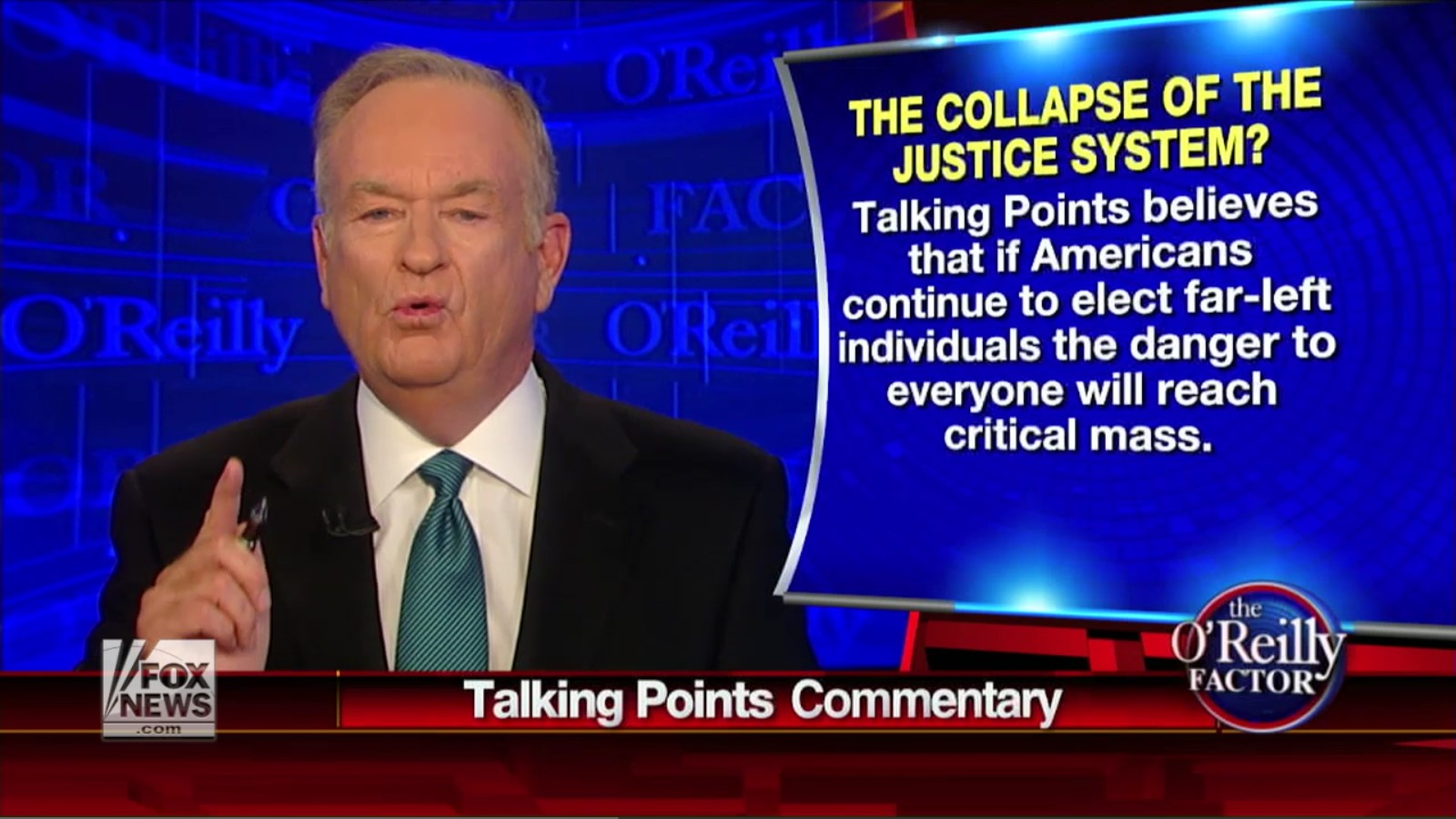 People who watch Fox News regularly like to tell critics of the conservative network that top-rated host Bill O'Reilly is actually an 'independent' who merely tells it like it is and cuts through all the bullshit to provide the honest to God truth. (Of course, they get this from Bill-O himself.) While they try to sell this tripe of O'Reilly being a free-thinking commentator whose one and only concern is with Mother Liberty herself, the reality is he is just another far-right bloviator who will embrace the extreme conservative rhetoric that every other right-wing hack in the Conservative Entertainment Complex tosses around on a daily basis.
Papa Bear proved that once again Tuesday night when he used his 'Talking Points' segment to rail against liberals and progressives and how they will lead to the complete collapse of the American justice system by being too lenient on criminals. O'Reilly's proof of this happening was the fact that former Olympic runner Oscar Pistorius is scheduled to be released from a South African prison after serving only ten months for killing his girlfriend. Apparently, at least in Bill's mind, South Africa is the template for the liberal ideal of the American court system, and soon murderers will be getting light sentences, or serve no time at all.
As O'Reilly is wont to do, he used vague statistics to prove that cities run by super lefty types are dealing with huge surges in crime because of the namby-pamby pussies not wanting to be tough on crime. (Ummm, Rahm Emanuel is a far-left liberal? Tell that to the people of Chicago, Bill!) He then somehow made the case that homeless people in New York City need to be locked away in jail so as not to bother the affluent white people who are driving in from the suburbs. The former war-time correspondent also took shots at President Obama, railing on him for commuting many non-violent drug offenders lengthy prison sentences as Bill feels anyone dealing or using drugs should be locked up for a long time.
As he got to the end of his whinefest, O'Reilly then went over the edge with his hyperbole. He suggested that people voting for liberal and progressive candidates are putting their lives on the line. See, we are reaching a critical mass in this country, and only hard-line conservatives have the wherewithal to get America on the right track. It doesn't matter that America counts for 25% of the world's prison population; we need to lock up MORE! Homeless people, drug addicts, poor minorities…lock them the FUCK UP! Get them away from the REAL AMERICANS!
It should come as no surprise that O'Reilly had GOP Presidential frontrunner on as a guest Tuesday evening. Gotta make sure to get the spittle flying on those nights.
Below is video of the segment, courtesy of Fox News: