That Just Happened! Donald Trump Just Gave Out Lindsey Graham's Cell Number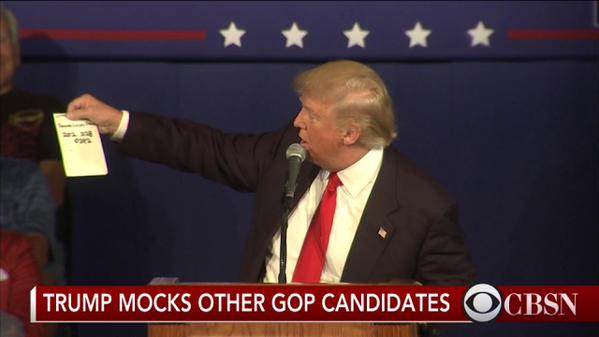 While giving a speech in Republican Senator and GOP Presidential hopeful Lindsey Graham's home state of South Carolina, thin-skinned narcissist and Republican frontrunner Donald Trump responded to Graham's recent comments about him by doxxing his rival. Graham called Trump a "jackass" after Trump said that Graham's friend John McCain was "not a war hero" because he was captured as a POW and Trump likes people "who weren't captured."
Trump, who has never ever let a criticism go without firing back, decided to reveal Graham's personal cell phone number to the gathered crowd. Of course, cable news stations were covering the speech, so it went out nationwide.
Before giving out Graham's digits, Trump continued his mean rich girl act by personally insulting Graham for minutes on end, calling him "not bright" and likely dumber than rival, and fellow veteran, Rick Perry. (Funny how the draft-dodging Trump, who LOVES the vets, makes sure to aim squarely at those who served in the military.) He also called Graham an "idiot" and "lightweight" in the GOP field who registers zero in the polls.
This all led to Trump exposing Graham's cell phone number as he went on a rambling story about how much Graham totally wanted to get a good reference from The Donald while visiting the set of Fox & Friends. Then he announced the number and told all in attendance to call it to bug Graham. Remember, this is a supposed serious Presidential candidate that is currently leading his GOP rivals in the polls. You built that, Republicans.
Donald Trump gave out Sen. Lindsey Graham's personal cell phone number to….America: http://t.co/fQUTQhwGSy http://t.co/qd4g6EvCC0

— The Situation Room (@CNNSitRoom) July 21, 2015
Media members in attendance or watching live commented on Twitter about the exposure.  
Yup. That was Lindsey Graham's personal cell # that Donald Trump gave out to… AMERICA: http://t.co/Ui1HA6h1eX @CNNPolitics

— Brooke Baldwin (@BrookeBCNN) July 21, 2015
just texted "sup brah?" to Lindsey Graham

— Simon Maloy (@SimonMaloy) July 21, 2015
If you do get through to Lindsey Graham's cell phone, tell him you've found the new sound he's looking for and play "Johnny B. Goode."

— Dave Itzkoff (@ditzkoff) July 21, 2015
Did Trump just give Lindsey Graham's phone number out during press conference LOL

— Wayne Dupree ★彡 (@WayneDupreeShow) July 21, 2015
Will Donald implode before reaching the first GOP debate next month? I sure hope not!
Image via CBSN