'A Fundamental Sickness in Our System': Former GOP Strategist Slams 'Lap Dogs' to Trump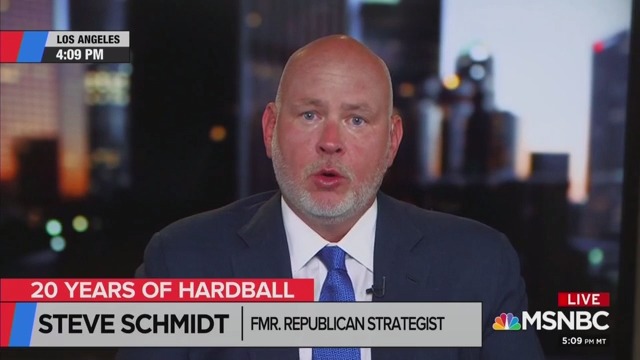 On Friday's airing of Hardball — the show's 20th anniversary — the opening segment focused on a report indicating that House Republicans are looking to offer up those close to President Trump as fall guys.
U.S. Ambassador to the European Union Gordon Sondland, Trump's personal lawyer Rudy Giuliani, and acting White House chief of staff Mick Mulvaney are each key players in the House's Ukraine investigation. As such, GOP leaders — who have shifted erratically from one counter-argument to another as more information has come to light — are raising doubts about their motives, suggesting their actions were freelanced rather than done under Trump's instruction.
Such an argument reveals how far some Trump allies will go to protect the president rather than hold him responsible, according to Steve Schmidt, a former Republican strategist who quit the party last year.
"Our system isn't built on a cult of personality," Schmidt said. "We have people who are working for the American people that are supposed to be public servants [but instead have become] obedient lap dogs to the leader. This is not healthy in a democracy, and it represents really a fundamental sickness in our system that we see playing out every day."
"What is it that the Republican defenders and enablers on The Hill are defending here?" Schmidt continued. "They're defending the right of a future Democratic president to be able to abuse his or her power by inducing investigations of U.S. persons, of U.S. citizens for their political advantage."
But don't expect the GOP to play the same cards when a president of the opposing party is in office. To them, this is all about keeping their position of authority, Schmidt maintains.
"The abuse of power, the abuse of the office and the willingness of people to subordinate what they know is right to this guy is an astounding moment in our national life."
Watch the video above, via MSNBC.