Rep. Duncan Hunter and Wife Lived Large on Stolen Congressional Campaign Funds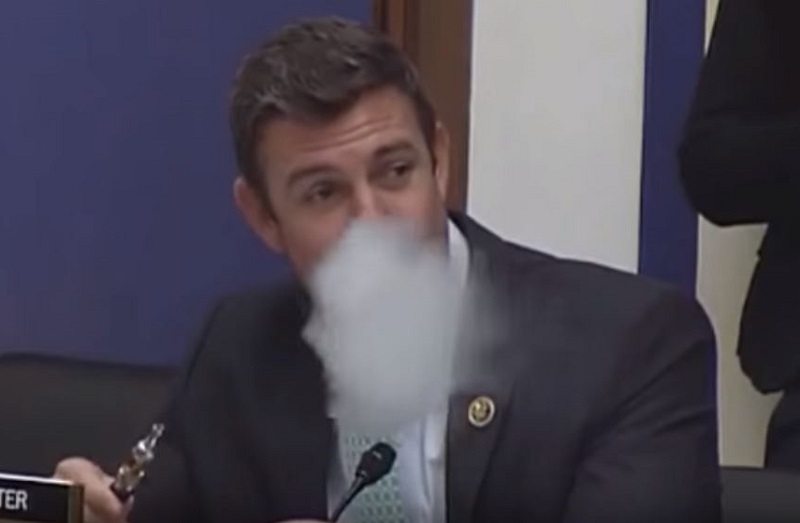 The federal government this week filed a motion to admit evidence of the personal financial troubles of The Vaping Congressman, Rep. Duncan Hunter, as part of its prosecution of the California Republican on charges he misused campaign funds for personal expenses and filed false campaign finance records.
Many of the gobsmacking specifics of the charges against Hunter and his wife, Margaret, showed up in the original 60-count indictment filed last August. But this new filing adds a few extra details to show that Hunter, despite his defense that his wife handled his finances, was well aware of the family's dire money problems for the entirety of his congressional career. (He was first elected in 2008.) Thus he would have had a motive to dip into his campaign kitty for, well, everything.
Here are a few of the more hilarious moments from this new filing:
"Duncan asked Margaret what his monthly 'allotment' was, and she told him not to take more than $200 in cash. She also told him that he would need to wait until March to get a tattoo he wanted, because she needed the money to buy groceries."
The Hunters have three children, and their father needed to be told to hold off on getting a tattoo so that they could eat.
"Duncan asked her, '[w]ould you please buy me a pack of cigarettes for tonight? I literally have no money.' He then asked, 'Will that cost $30'–i.e., would buying cigarettes trigger an insufficient funds fee from the bank? Margaret said it would cost $34."
Maybe skip the cigarettes then, you'll live longer. In prison, most likely.
"On March 21, 2016, after a host of online gaming charges to the campaign credit card had caught his attention, Duncan noticed a $32 iTunes charge on the family account. Duncan sent a text to his children and Margaret: 'Do not charge anything in iTunes until next month please.'…He then sent screenshots of receipts showing purchases of Minecraft Resource and Texture Packs ($1.98) and a Clash of Clans Bucket of Gems ($9.99). He added, 'First of the month you can get whatever you want. It's on my dime now and unlike mom's my dimes are limited.'"
While Hunter was nickel-and-diming his kids charging a few bucks' worth of Minecraft add-ons, he was busy using using that same campaign credit card to pay for dates with his mistresses (of which he had five at various times, according to last year's indictment). These dates included romantic weekend getaways to Virginia Beach and Lake Tahoe. He was also using that credit card to run up tabs at bars and restaurants in Washington D.C. for nights out with friends and weekend golf trips with his buddies.
Hunter was paid $170,000 per year as a congressman. With his wife's small salary to work on his campaigns (he insisted on hiring her over the objections of several aides), the couple has an income of over $200,000. So one could argue this is a cautionary tale about the difficulty of achieving the American dream for families with even six-figure incomes.
But the Hunters seem to have made zero effort to rein themselves in or get their finances in order. If anything, they seemed enthusiastic to use Duncan Hunter's congressional campaign funds as their own personal piggy bank, spending that money on family vacations to Italy and a cross-country plane ticket for their pet rabbit. They were forever behind on their mortgage payments and eventually had to sell their house to pay back campaign funds. (The family moved in with his parents in San Diego.)
Nor does Duncan Hunter appear to have ever considered that every expensive night out and weekend trip with his friends and various mistress in Washington D.C. was another nail in his family's financial coffin.
This week Hunter's wife pleaded guilty to several charges and may have to testify against her husband at his trial. She faces up to five years in prison. Duncan Hunter has tried to have the charges dismissed by taking a page from Donald Trump's playbook and arguing alternately that the prosecutors are Democrats biased against him, or that the indictment is part of a "deep state" plot against him.
This is less a cautionary tale about the dangers of chasing the American Dream and more a story of a couple of entitled jerks getting their comeuppance.